Fareham Borough Council hosts first rough-sleeping conference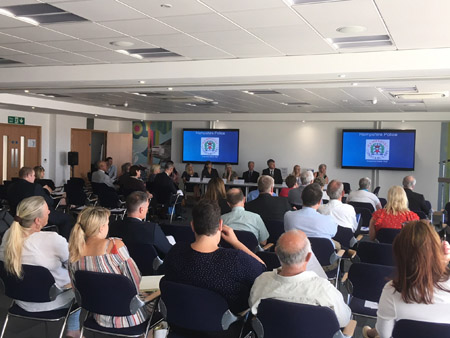 Fareham Borough Council has hosted the first ever conference to tackle rough sleeping in the town.
More than 70 delegates attended, and included key agencies who work in partnership to provide help and support to rough sleepers. The Two Saints Hostel, Hampshire Constabulary and Inclusion Recovery Hampshire joined the Council to explain how they work and highlighted some of the major challenges and successes they face. Representatives from local churches, voluntary groups and other local councils and public-sector organisations were also in attendance.
The aim of the conference was to share information and identify strategies that will further support the work of the agencies and to launch 'Fareham StreetAid', a new initiative through which joint communications can be published. A series of key messages will be developed to support the work of all the agencies and help members of the public who either feel intimidated by being asked for money by rough sleepers, or would like to find a way to help, but are not sure of the best way to do this.
It was made very clear that giving money directly to rough sleepers is not advisable. Charity outreach workers pointed out drug addiction is one of the many complex issues they are dealing with on a daily basis, so it is highly likely that any money given will simply be used to fund that habit. A better solution for those wishing to give money might be to donate to one of the many charities that has staff specifically trained to help rough sleepers.
Equally, it was highlighted that voluntary groups working outside of the specialist agencies, such as those providing regular meals, might unwittingly be helping someone to continue to live on the streets rather than seek the help and support that they need to get off the streets. Rough sleepers can access free meals, and somewhere to sleep, at the Two Saints hostel. Whilst there, they would also have access to invaluable help and advice from staff who have training in dealing with the many complex issues.
That does not mean however, that voluntary groups should stop trying to help. They can make a really big difference by working with all or some of the many specialist organisations that are working in Fareham to try to help those sleeping rough.
Executive Leader of the Council, Councillor Seán Woodward, said: "Tackling rough sleeping is one of our key priorities and it is heart-warming to see such a huge turnout today both from agencies and the many volunteers that are giving up their own time and trying to help. By bringing everyone together I think that those not involved in the day-to-day activities will have gained a much deeper understanding of the range of complex needs that people sleeping rough have and the many services that are in place to help them.
"We will be working together to help rough sleepers off the streets rather than helping them to stay on the streets. That's why it is so important that people who wish to offer support such as money, food, sleeping bags, clothing, etc should give it to the local charities who, together with the appropriate support agencies, are equipped with the necessary resources to deliver what is needed to these vulnerable people.
"I am grateful to all those who have taken time out of their busy schedules to come along today and share their experiences and expertise."
The conference was held at the new conference suite at the Fareham Innovation Centre at Daedalus on 11 July.
For more information about the charities who support rough sleepers in Fareham, how to donate, and how the Council helps those sleeping rough in Fareham, see: http://www.fareham.gov.uk/housing/homelessness/helpingroughsleepers.aspx.
ENDS
Local Issues
Sarisbury 2021 Election Introductory Card…
Read more